Mission Statement
Expressway is committed to providing an outstanding customer experience, to be a great place to work, and a thoughtful steward in our community. At Expressway we drive growth and customer satisfaction with our World-Class transportation services. We will passionately promote ethics and professionalism within our industry while enhancing our own competitive advantage.
Vision Statement
Being a leader in the multi-modal transportation industry by focusing on customers, our people, innovation and communication in logistical transportation solutions.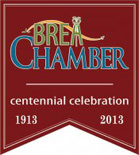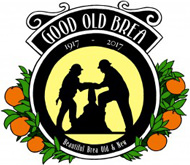 Intermodal Rail Freight Services
Intermodal rail freight transport is an excellent shipping option to improve reliability and reduce costs. This method allows you to move large amounts and heavy loads over long distances in a much more affordable way than over the road trucking. Additionally, intermodal transport reduces fuel consumption while moving more goods, which makes this an environmentally friendly alternative. However, finding the right transport company to cater to your intermodal transport requirements can be challenging unless you have the right help.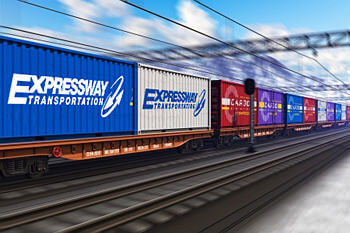 This is where Expressway Transportation comes in. As a freight forwarder with over 20 years of experience in the transport industry, we have developed partnerships and alliances with a number of transportation and freight companies across the country. Using the United States' domestic railways, we can help you determine which company is best suited for your needs and budget. We can provide intermodal transport to ship your goods and equipment across all 48 contiguous states. To see freight rates or to learn more, contact us online or by phone at (800) 822-4196.
Why Choose Intermodal Freight Transport?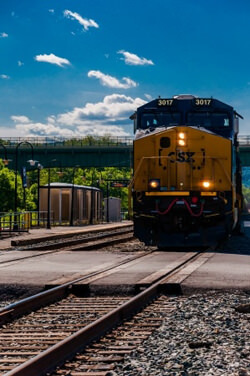 While it has always been one of the primary methods for transporting goods, intermodal freight transportation has grown in popularity in recent years for a multitude of reasons. The following are some of the main advantages that this form of goods transport has to offer individuals:
Probably the most important advantage of using intermodal rail freight transport is the fact that bulk goods can be transported over large distances in just one trip. Unlike trucks, shipping by railway allows companies to transport larger deliveries of goods, which translates to fewer trips. Companies can then assign their trucks more efficiently for local deliveries and can experience increased savings.
Another advantage is that of reduced fuel costs. In general, trains are a more fuel efficient transportation method than over the road trucking. Trains can transport larger and heavier shipments using less fuel, which results in big savings for customers.
Another related key advantage that intermodal goods transport has over road transport is the fact that it is far more environmentally friendly. Since trucks are not required to make long journeys across the country, guzzling up huge amounts of fuel, the amount of fuel emissions is greatly reduced. Studies indicate that intermodal freight transport is three times more efficient than road transportation. Even shifting a small portion of transport orders from road transportation to intermodal freight transport can be extremely beneficial to the environment.
Expressway Transportation can Provide the Ideal Intermodal Freight Option for You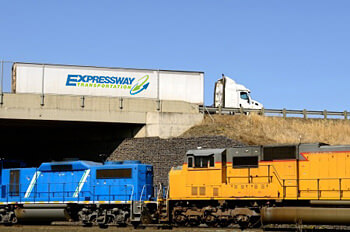 It is clear that intermodal freight transport is a mutually beneficial option for transport companies as well as their customers. However, choosing a transportation company that suits your needs and requirements is another challenge altogether. It is important to study the various intermodal freight options available before making a decision. Expressway Transportation, with its huge network of carriers, can provide you with all the relevant information and data you need to make the right decision for your needs.
Call Expressway Transportation to Evaluate Your Intermodal Transport Options
To learn more about intermodal transportation or to request a freight quote for intermodal shipping or transportation for any goods or equipment, contact Expressway Transportation at (800) 822-4196. We look forward to helping you meet all of your transportation needs.